Moodo starter pack
Transform your environment with Moodo, a smart home scent diffusing device. Moodo lets you control the ambiance in any room using a smartphone app or Amazon Alexa. Try our perfumer-designed presets or mix your own scents.
See for yourself
Moodo starter pack
Starter pack includes 3 scent families
Battery option available

$189.00-$209.00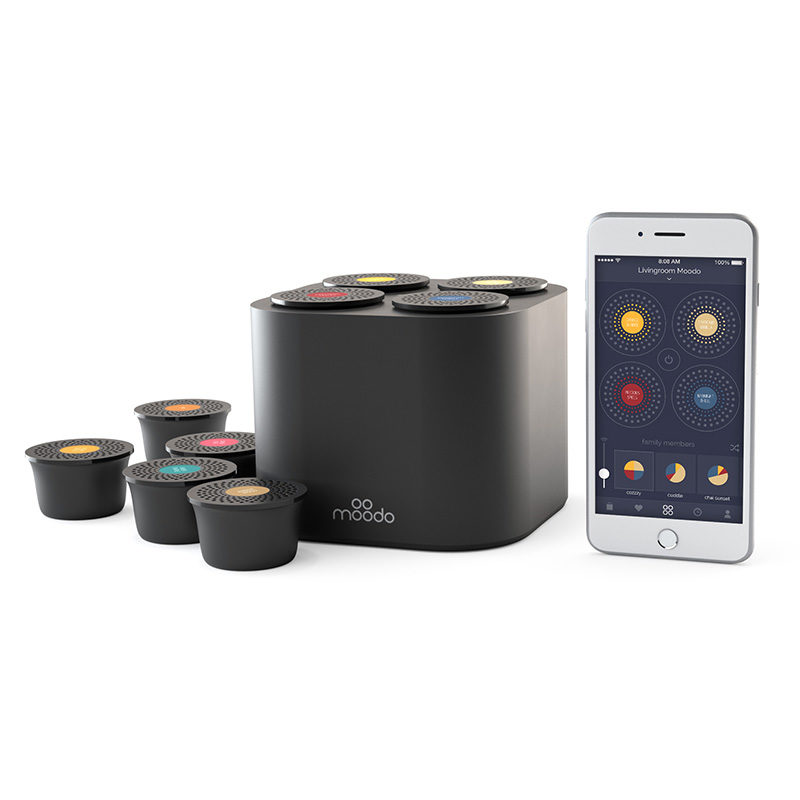 Please make sure to pick 3 scent families, type of power adapter and battery option.

**Device without battery - ships within 5 days**
**Device with battery - ships within 20 days**
how it works
Moodo device pack contains: fragrance dispenser system (with/without battery), EU/US power adapter, an inspiring selection of fragrance capsules (three scent families), mobile app and connectivity via Wi-Fi. Moodo uses fans with adjustable speeds to diffuse scents throughout a 600-sqft room without any wax, aerosol residue or mess to clean up. Change the intensity of any capsule, use the app's fragrance dials to create your own scent or ask Alexa to adjust the scents for you.
features
Moodo is an entirely new take on personalizing your environment. It's not just a step up or an extra feature - it's a new way to understand, interact with and think of smell. Mix and save custom scent variations, use the shuffle feature to switch between presets, share with friends and set timers to diffuse different scents throughout the day. Moodo's app is available for free download on iOS, Android or Amazon Alexa.
Control your Moodo with our mobile app
Smart home integration
Have fun mixing fragrances
Fragrance presets are created by leading perfumiers
Shuffle between presets